Verta Pure
349 €
Free delivery within Germany from 100 € order value*
Made to order,
Delivery time: 4-8 business days (within Germany)
Verta Pure bag is a piece of jewelry and accessory at the same time. Due to its special pattern construction, the facets on the front rise three-dimensionally like an oversized crystal. On the top, the bag is securely closed by a high-quality metal zipper with a mix of silver and black teeth.
Color: Black
Interior design: Certified organic cotton lining, no interior pockets
Closure: Two-tone metal zipper (black & silver)
Shoulder strap: Adjustable in length (110–120 cm)
Leather: Vegetable-tanned cowhide from Italy
Measurements: 28 × 18 × 4 cm
Sustainably handmade in Germany
We are happy to answer your questions about SHAROKINA and our products. You will receive an answer from us within a maximum of 24 hours - but usually even on the same day.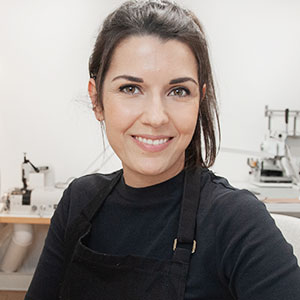 "An eye-catching shape combined with the pure elegance of smooth black leather - Verta Pure is inspired by precious crystals and offers everything an evening bag needs: a stylish design, high-quality materials, space for the essentials and a breeze of extravagance."
Sharokina Golpashin, founder & designer of SHAROKINA
SHAROKINA on Instagram: @sharokina
Discover our inspiration and have a look behind the scenes of our collection design process!
The appropriate leather care
With the appropriate care, you can enjoy your leather goods for many years. Therefore, we offer high-quality cleaning, impregnation and care products from the traditional French brand Famaco Paris.
First, the premium open-pored leather of Verta Pure should be cleaned with the gentle cleansing foam Eco Clean. After cleaning, the impregnation spray Eco Protect can be applied to protect the surface against water stains and dirt. As a finish, we recommend to treat the leather with the nourishing leather balm Fama Eco. This way, even light, superficial scratches can be repaired and the leather gets a fresh shine.
| | |
| --- | --- |
| * | Applies for deliveries to Germany. The delivery times and shipping costs for other countries will be shown in the order process after specifying the shipping address. Please find more information about delivery on our delivery information page. |